Prominend the unique liquid concept for advanced calf rearing
Unique product, easy application
Vital Calves
Maximum growth performance
Better developed heifers
Product quality
High protein quality
Highly digestible
Efficiency
Improves the return on investment
Ease of labour
Ad libitum cold milk supply
Simple measuring
Mezclado fácil
Prominend - Unique liquid calf milk
The Prominend liquid products are a palatable UHT milk – uniquely delivered as a liquid – and based on food-grade dairy ingredients to ensure the highest protein quality and thus a highly digestible product. In addition, it provides calves with the enriched nutrition they need, resulting in vital calves with a high growth. The product has an exceptionally long shelf life of 12 months unopened and eight weeks opened. Since the product is provided as a liquid, it is easy to dilute with water which excludes clumping. Furthermore, measuring the amount of water and milk with the Prominend bucket reduces the risk of procedural errors. Just fill the bucket with water up to the water line and add the milk up to the Prominend line.
UHT milk delivered in a liquid format
Improves digestibility
Guarantees ease of labour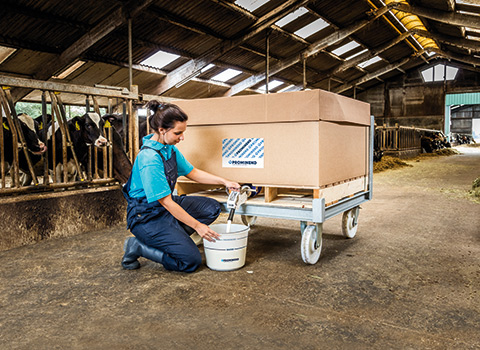 Prominend Elite
Prominend Elite has several advantages when it comes to optimising calves' youth growth performance and ease of labour. It is made from high quality raw materials which improve digestibility and solubility. Furthermore the feed is quick and easy to prepare, guaranteeing ease of labour and reducing the risk of errors.
Palatable milk delivered as a liquid
No sediment
Can be offered cold and ad libitum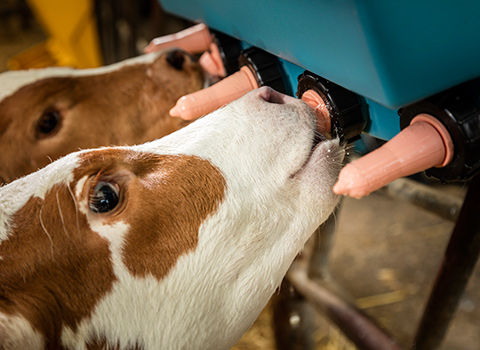 Prominend Activator
Prominend Activator is a sweet and palatable post-colostrum milk replacer for calves in all conditions. Administer as a warm feed twice daily to guarantee high feed intake and provide calves with a safe start.
Palatable milk delivered as a liquid
Sweet milk
Excellent dairy protein quality
Prominend application
The success of the Prominend concept is determined by the combination of the product and right application. See below the applications for the Prominend liquid products.