Pigger Cream
High protein quality for vital piglets
Pigger Cream is a palatable liquid ready-to-use UHT that is based on food grade dairy ingredients to ensure the highest protein quality and thus a highly digestible product. The high dry matter content (37.5%) supports dry matter feed intake, which improves functioning of the digestive system. Pigger Cream is designed for all piglets, and is given directly after the colostrum in addition to the sows' milk. The product has an exceptionally long shelf life of twelve months unopened and eight weeks opened. There is no need to add water as the product is delivered in a liquid format which safeguards a hygienic product and guarantees ease of labour.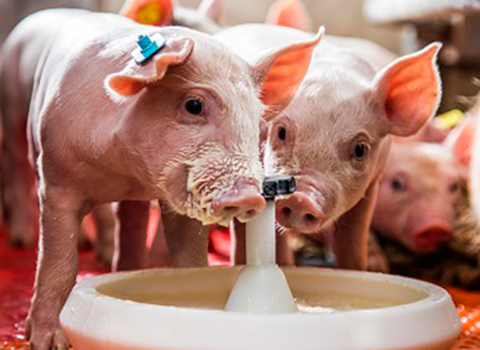 Pigger Primo
Smakelijke, goed verteerbare zeugenmelk vervanger
Pigger Primo Plasma is een zeugenmelk vervanger die stimuleert om maximaal voer op te nemen. Deze poedermelk wordt gecombineerd met hoogwaardige zuivel ingrediënten in combinatie met plasma. Pigger Primo Plasma kan in gezet worden als aanvullende melk tijdens
de zoogperiode of bij vroeg spenen en ongelijke (grote) tomen. De uitstekende smaak stimuleert de melkopname.
Product eigenschappen en voordelen
Zeer smakelijke, hoogwaardige eiwitkwaliteit
Plasma toegevoegd voor uitstekende smaak
Beperkt voerstress
Zeer breed inzetbaar
Pigger Primo Extra
flexibele zeugenmelk vervanger
Pigger Primo Extra is een biggenmelk die alleen zuivel ingrediënten bevat. Dit zorgt voor een maximale voer opname en een uitstekende
vertering. Pigger Primo Extra kan toegepast worden als een aanvullende melk voor biggen die vroeg gespeend worden of in het geval van
niet homogene tomen. De melk is uitstekend oplosbaar en blijft lang stabiel, dit maakt hem eenvoudig in gebruik.
Product eigenschappen en voordelen
Alleen zuivel ingredienten
Zeer goed oplosbaar
Universeel toepasbaar
Flexibele toepassing